More Narragansett RI USA Beach Glass
by T.Rose
(South Dakota)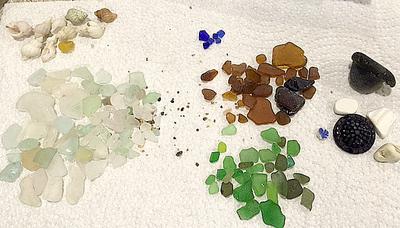 Bottle Bottom in Olive!
~ Submitted Sun Oct 16 2016 By: T.Rose,


South Dakota
City nearest to that beach: Narragansett
The state, country, or island where the beach is: Rhode Island
Lost of Craft-grade glass on the beach north of Monohan's Clam Shack.
We found a lot at the far N. end of the beach where a river mouth feeds into the ocean.
Hubs has an eye for dark olive and black glass and found a few Jewelry B and one A there. Lots of great quality Craft.
To the south of the shack there's a tiny rocky beach that yields excellent, albeit small craft A.
I found an excellent bottle bottom in dark olive and Hubs found jewelry grade A in black glass.
This is a beach recommended from another poster here.
No bathroom at small, rocky beach south end. Nice porta potty at north beach.
Lots of pickers.
3 hours total with two sets of eyes. Hubs and I don't see the same colors I tend to see pastels and he sees the darks. We're not sure why, but that's mostly what he finds.
Scroll down for comments...

More Rhode Island Sea Glass: