Olas Altas, Mazatlan Mexico Sea Glass Report
by Anonymous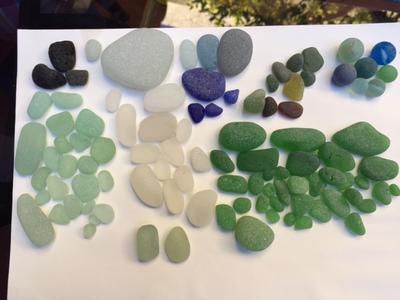 Gem of a Day!
Submitted Sun Dec 11 2016


Name of the Beach: Olas Altas

City nearest to that beach: Mazatlan Mexico

Frosty jewelry grade A on this beach near Olas Atlas. Found our first gray ever. Beautiful, big and definitively gray. 7 marbles!!!

Secluded beach. Difficult to get to and not for the sedentary. Lots of rocks and hiking.

Olas Altas is a small stretch of beachfront and does have La Siesta hotel directly behind it (if that helps). The majority of our sea glass is found at this beach. Once in awhile, we go just north or south of there but those areas are not easy access.

We go into the water and scoop stuff. We're pretty hard core. Sea strand is great too, but Hubs likes to get black glass which is found just inside the water line mainly.
See attached pix. This is our picks just since we arrived on Dec. 1. We try to get out 4-5 times per week. Whatever our work schedule allows. We stalk the tide and take time out whenever we can.
I don't see the black glass myself, my husband finds it. I just see pastels, mainly.
Take care!
See also: January 24 2016 Olas Altas Beach, Mazatlan, Mexico
Scroll down for comments...

More Sea Glass from Mexico: