Home - Sea Glass Crafts - Sea Glass Beads
Sea Glass Beads, Glass Jewelry Beads
There are two types of sea glass beads:
Old glass or ceramic beads found on a wave-tumbled shore
Sea glass that has been drilled to make a bead
You might be thinking of buying sea glass beads or making them yourself.

Beads Found on the Beach

First let's talk about beads that were originally made as glass beads many years ago and found on the shore of a lake or ocean.


Glass beads may have been "trade beads" that were used to trade with indigenous people for furs, etc, or other glass beads originally from clothing, ornaments, lamps, chandeliers, et cetera.

One of the most thrilling finds for a beach glasser is an old, tumbled and frosted glass bead. You will recognize them first for the hole all the way through.
Then, a bead is generally smaller than thumbnail size, so anything bigger than that is likely something else.
Beads are generally round or oval but also were mass produced in other shapes in years gone by.

Here are some examples.

Real original glass beads ended up in the surf line of the ocean or lake and became tumbled and worn like all true sea glass and then were found by a collector on a beach.
They're extremely rare, and it would be highly unlikely to find them for sale anywhere because collectors have a tendency to hold onto these prized possessions.
Here is one of Lin's favorite beach bead finds. In spite of being very tumbled and old, it still has part of the cord through it. Read how Lin found it.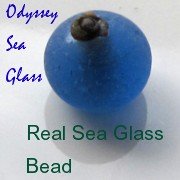 Real Sea Glass - Drilled to Make Beads

The second kind of true sea glass beads consist of real pieces of genuine sea glass that have been drilled to use as beads.

Features of Real Drilled Sea Glass "Beads"

You'll not find true drilled sea glass beads all uniform in shape like beads that you might see for sale all on a string.

They're easily recognizable by the following features:

No two "beads" would be exactly alike in shape or size.


Rarely would the bead be perfectly round or oval.


The beads would never be shiny; rather, they would have the true sea glass tumbled look to them. See our page on sea glass quality.

If a bead is a rare color, it would be highly unlikely to be matched to another bead of the same color and general shape.

I won't say this never happens but it would be very rare to see. If you are thinking of buying sea glass beads, scroll down to that section and read it carefully.

How to Make Glass Beads with Beach Glass
Beads made of sea glass (these are usually smaller pieces of sea glass that have been drilled through) will definitely add excitement and variety to many sea glass crafts projects. And,
if you're a beader
, these will add charm and personality to your beading crafts.
That said, the making of beads out of sea glass can be a challenge to get the right pressure so you don't break them while drilling.

You'll need to have the proper diamond drill bits and a jewelry drill such as a Dremel or similar drill.
Step-by-Step: Drill a Hole in Glass
1. Place glass to be drilled on top of a sponge in a container filled with enough water to cover the glass and about 1/4 inch of the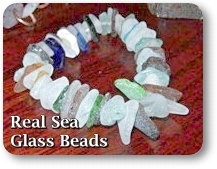 drill bit.
2. To prevent skipping, hold bit at an angle and create a groove.

3. Once you have a groove started, drill straight down using light pressure until the hole is complete.

4. To avoid undue chipping, drill half way from one side of the sea glass, then turn it over and finish drilling from the other side.

( Click here and scroll down for photos of how to do this.)
Tips:

Start with larger pieces of sea glass. The smaller the beads, the harder to drill. Also, there is an approximate 5-10% breakage rate when drilling sea glass.

As you become more adept at drilling, move on to smaller pieces. Expect breakage and don't practice on your rare pieces!

Use your craft quality pieces to practice on as opposed to your good jewelry quality pieces.
Purchasing Sea Glass Beads
If a seller says "Sea Glass Beads" or beach glass beads, one would think that they were selling real sea glass.
Unfortunately, that isn't always the case. We strongly feel that if the beads aren't genuine, the seller should state "faux" or "imitation" sea glass beads or otherwise clearly state that the beads are not true, genuine sea glass.
However, just looking at one page on eBay, we found these quotes. Note that the wording isn't upfront and an unwary customer could easily get taken in and believe they were getting the genuine thing:
Note:

None of the following sellers were selling genuine sea genuine sea glass:
"Frosted Beach Glass Beads - Chunky Colors of the Sea - This auction is offering three strands of chunky frosted beach glass beads..."

This seller does add

"All beads are in excellent, unused condition."

Unused sea glass???



"Bead frosted sea glass twisted bugle glass" "Unusual sheer frost glass with a slight twist fine jewelry gems"

So the gist of it all is that since there is no regulation of the terms used, it's "Buyer Beware!"


---