Sea Glass Photo Contest - Novice Collector
by Haszel
(British Columbia Canada)
This summer visiting in New Brunswick my cousin introduced me to sea-glass collecting.


I was fortunate and found the black shard in the Atlantic coast.
All other finds have been back home in British Columbia or coastlines in Washington state.
My husband wood-carved the starfish for my display.
Sea Glass Photo Contest - weisbrod and hess
by Jennifer
(PA)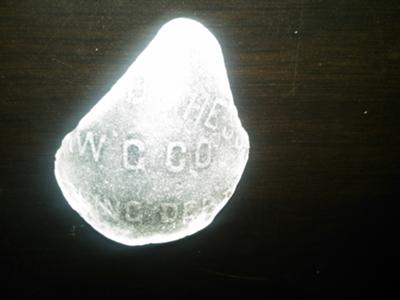 Sea Glass Photo Contest 1
Atlantic city is one of my favorite beaches for beach glass as it never disappoints!

Found this bottle piece in october along with a whole bunch more - I believe this says
'Weisbrod and Hess
Brewing company
Bottling dept'

After doing some research, I discovered this was a bottling co in Philly in business from the late 1800's to the 1920's when it went out of business - meaning this piece of glass is at least 70 years old. :)

Picture taken on a Blackberry Smartphone.