Home

>
Buy Sea Glass

>
Seaglass Jewelry
Seaglass Jewelry and Beachglass Jewelry
Are you fascinated by sea glass?
A growing passion for collecting seaglass or beachglass pieces or beautiful sea glass shards has resulted in an increasing interest in sea and beachglass jewelry.

  Seaglass and Beachglass Jewelry Lines
Here at Odyssey, we have do have our own line of Lin's handmade jewelry. However, lately Lin's joint pain has pretty much put an end to her seaglass jewelry making.
On the other hand, on this and other pages we present quite a bit of information to help you learn about this fascinating hobby.
Wire Wrapped Seaglass Pendant
A growing passion for collecting sea or beachglass pieces or beautiful sea glass shards has resulted in an increasing interest in sea and beachglass jewelry.

What beachglass or sea glass jewelry and crafts are available?

To look at Lin's jewelry, click here. Or to see the beautiful "raw" genuine, natural beach glass sold by us specifically for jewelry and crafts, click here.

You can see the beach glass sold by piece, in matched pairs, and in bulk color or mixed groups.
Wire Wrapped Sea Glass Jewelry
The naturally wave-tumbled glass we offer for sale is clearly marked as to what it's grade, color, and size is.

Our jewelry lines are designed around a range of hand-collected beachglass finds from beaches on the East and West Coast of the United States as well as select pieces from Japan, Italy, and other exotic beach areas.
  The Basic Kinds of Seaglass or Beachglass Jewelry

What are the basic kinds of sea or beachglass jewelry?

The simplest but also effective sea or beachglass jewelry is made by drilling a hole in the shard of sea glass using a diamond bit drill.
Then simply add a loop of silver, copper, or gold wire, etcetera, and you have a pendant; or, if you make a pair, beachglass earrings.

Another very popular method is wrapping beachglass with a wire-wrapping technique as seen in the two photos above.

This is the technique mainly used by some of the most popular sea and beachglass jewelry artists, Lin included.
Bezeling
A third technique used by other handcrafted glass jewelers is bezeling sea and beach glass pieces, shown below as made by Signe Lawson.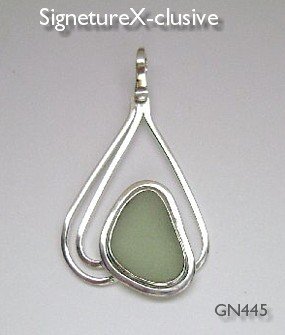 As you can see in these photos, bezeling adds a sophisticated touch to your beach glass.

Here's Lin's Recommended Reading on Jewelry Making:

Bezeling with sterling silver or gold is very attractive and can be used very effectively to make rings, bracelets, earrings, and other beachglass jewelry.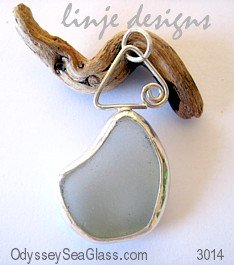 Bezeling jewelry is especially effective with beach glass
Bezeling is a great way to set or mount seaglass, since it allows light to pass through the beachglass unimpeded.
---
---
More Jewelry Pages to Explore: