Lake Michigan, March 3, 2017
by Frank
(Charlevoix Michigan)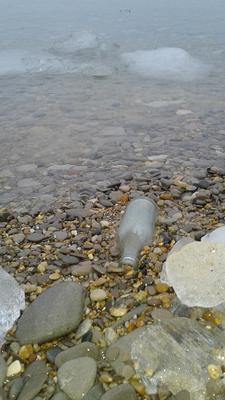 Lake Michigan near Charlevoix
~ sea glass photos submitted by Frank, Charlevoix Michigan
Beach Glass Lake Michigan near Charlevoix

March 3, 2017
In between jobs I decided to take a stroll along the shore of Lake Michigan near Charlevoix.
There was still a lot of ice along the shore line but there was plenty of exposed gravel and rocks so I took a look.
Well it was my lucky day as I found several nice pieces of beach glass and a whole bottle.
The bottle is from the Bay City Beverage company, which was only open from 1934 until 1943, so it is at least 74 years old.
What a great find for me.
~ sea glass photos submitted by

Frank

, Charlevoix Michigan

Scroll down for comments...

More Lake Michigan Sea Glass: