---
Home - Sea Glass Crafts - Stained Glass Sea
Stained Glass Sea Glass Mosaics, Sea Glass Art
Best stained glass sea glass art and crafts and information on collecting, grading, colors, and beaches to find sea glass...
Stained glass sea glass mosaics done in pattern of colorful sea glass, alone or in combination with stained glass, sea glass, and beach rocks can form the center of attraction in your living room as a coffee table top, a "stain glass" window, or other attractive objected created with your own hands.



"Stained Glass" Sea Glass Mosaic
by Mona from Maine
On this page, we have several examples of "stained glass," sea glass mosaics, as well as a step-by-step guide to making a mosaic table top.
Just as a spot of color and shape reminiscent of the sea is created when you wear seaglass earring, a sea glass bracelet, or another sea glass jewelry, the contrast with more subdued decor results in a pleasant and attractive centerpiece.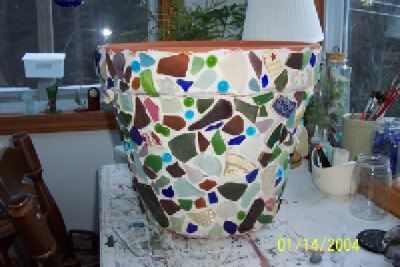 Sea Glass Mosaic by Mona from Maine
Although you may not feel that you are an artist or even a crafts person, don't shy away from trying your hand at a stained glass sea glass mosaic project. There are many possibilities for you to try with sea glass mosaics.


Mosaic or tile project.
Here is a favorite of many sea glass crafters.
It is a way to use your sea glass that is not too difficult or advanced and can be adapted to different objects - from decorating the top of a table, to using in your garden, to hanging up in your window or on your wall.



Or by following instructions for setting small tiles, you could create your own special stained glass sea glass tile designs for a bathroom or kitchen splash guards or counter tops.




Why not use your stained glass sea glass genuine or tumbled shards and pebbles or agates to make a
Mosaic Coffee Table
? Here are several ways to do this:

This is what you might call the standard mosaic, using grout and laying the sea glass as you would tile. This works quite well.

You can purchase a
nice table ready to accept the grout
that has a prepared surface and an edge or lip to match the height of the finished surface.

On the other hand, you might want to adapt an existing table yourself. Here is an
excellent example of stained glass sea glass art submitted by one of our very talented viewers
.



Click on photo to zoom


As shown in the photo, the edge of the table has been built up to match the height of the finished surface.

Another way to make a "mosaic," stained glass sea glass table topbut that allows you to change and rearrange the patterns and pieces is by doing the following:


1. First find a used coffee table
at a garage sale or thrift shop.

Look for one with a clear glass top. The idea is to arrange your glass beneath the glass top (you could add sand, sea shells, driftwood, etc).


2. There are two ways to work with this table
to create a stained glass sea glass mosaic with your beach finds. This will depend to a certain extent on how the table is constructed.

If the glass top has a solid top/shelf under it, you could add spacers between that solid piece and the glass top to raise the glass sufficiently (about 1 to 1-1/2 inches if you are just using sea glass) to clear your beach glass mosaic materials.

If that will not work with your particular coffee table - for example, if the glass top has no solid base below it - you can add brackets to the insides of the legs to support a piece of plywood cut to size with enough room below the glass top to accommodate your stained glass sea glass mosaic materials.


3. Arrange your mosaic materials as you would like
. The advantage to this type of a sea glass idea is that you can rearrange the design if you wish to at any time!


4. If you are satisfied with the way it looks
and don't plan on rearranging or adding more, you might want to seal the areas between the glass and wood so that dust will not get in. Otherwise, dust will eventually get in, and you'll need to dust the arrangement every once in a long while.


---

I also know of a couple who are avid shark teeth collectors. They filled their coffee table with shark's teeth. The coffee table has a clear glass top as above but underneath is where they actually store their shark's teeth.
When they get more teeth, they lift off the top of the table and throw more in. You could do the same thing with sea glass (gently though, not throw it!)

Another stained glass sea glass mosaic craft idea along the same lines would be to find a used coffee table with a wood top, lay your sea glass mosaic design down the way you want it, and then overlay it with clear resin.
I have not done this myself. If you do opt to try this, just remember that the sea glass will change slightly in its transparency and frostiness because of being covered by the resin. LET US KNOW HOW IT TURNS OUT!

WE would love to hear from you about your favorite sea glass mosaic or other sea glass crafts project.
Click here to add YOUR project under your name!

So you think you have a rare color of beach glass?

Is your sea glass jewelry quality?


---

Go from Stained Glass Sea Glass Mosaics to Sea Glass Crafts Main Page

Go from Stained Glass Sea Glass Mosaics to Home Page