Home - Sea Glass Crafts - Sea Glass Fountain
Sea Glass Fountain, Tabletop or Outdoor
Have you thought about making a Sea Glass Fountain using the glass that you have collected? The play of water and light over pebbles and sea glass is one of the easiest yet most attractive ways to display your favorite beach glass treasures.

Assemble Your Own Sea Glass/Beach Glass Fountain
To build your sea glass fountain, you will need:
Steps:
Set the bowl in a sunny spot.
Center the pump in the bowl and place the solar panel where it is not too visible.
Pile the beach or aquarium rocks up over the pump to hide it. Adjust the rocks so that the water will trickle down.
Add a layer of beach rocks to the bottom of the bowl.
Place your sea glass on top.
Add water to cover the bottom rocks and partially cover your sea glass. Follow the instructions on the pump to get the right depth of water.
Adapt a Tabletop or Outdoor Fountain
Easier and faster.
If you want a quick and attractive way to display your collection, or if you are leery about starting this project from scratch, why not buy a nice table-top water fountain and add a colorful selection of your sea glass?
Then, just add your sea glass.

Fountains such as the ones displayed here will usually include a light source. This is ideal for showing your sea glass colors.
The sound and visual play of the water over the sea glass and rocks is soothing and lends a nice touch to your home or office environment.
There are many sizes and designs of these tabletop and free-standing water fountains for indoor or outdoor use, and they make a beautiful and artistic display and an excellent way to highlight your sea or beach glass collection.
More Sea Glass and Beach Glass Crafts Ideas and Examples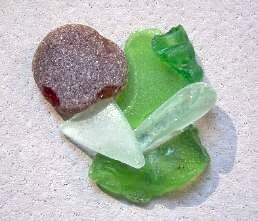 ~ Sea glass table Lamp.

~ Sea glass candles, candle holders or votive holders.

~ Beach motif mirror or sea glass photo frame.craft sea glass

~  Colorful night lights and light switch plates.

~ Sea glass wind chimes, suncatchers, or hanging mobiles.

~ Sea glass mosaics or a sea glass tile.

~ Sea glass, stained glass style.

~ Sea glass beads.

Have you tried one of these projects or another project with sea glass? Share your work with us!
Have you made one of these Sea Glass Crafts projects or one like it? We'd love for you to show off all of your hard work!

It doesn't matter if it is very basic or more complicated, we love to see them all.

Note - To upload a photo, it should be less than 1000 pixels wide.

Click here for easy instructions on resizing your photo.

There are so many different possibilities with these projects, and we'd love to see what you've come up with.

Simply use this form to share your project with us. And please...share a photo of your work!


---