Home - Crafts - Sea Glass Table Lamp


Sea Glass Table Lamp - Sea Glass Craft Project
A Sea Glass Table Lamp is a great way to use your collection of sea glass that doesn't require a lot of time or materials and really is one of the nicest ways of showing off your collection!

Here is how to easily assemble a sea glass lamp.
Most of us have used glass jars or other glass containers to store and display our sea glass.
A fillable glass lamp is particularly effective with sea glass because of the light shining through and highlighting the colors of the beach glass.

Steps: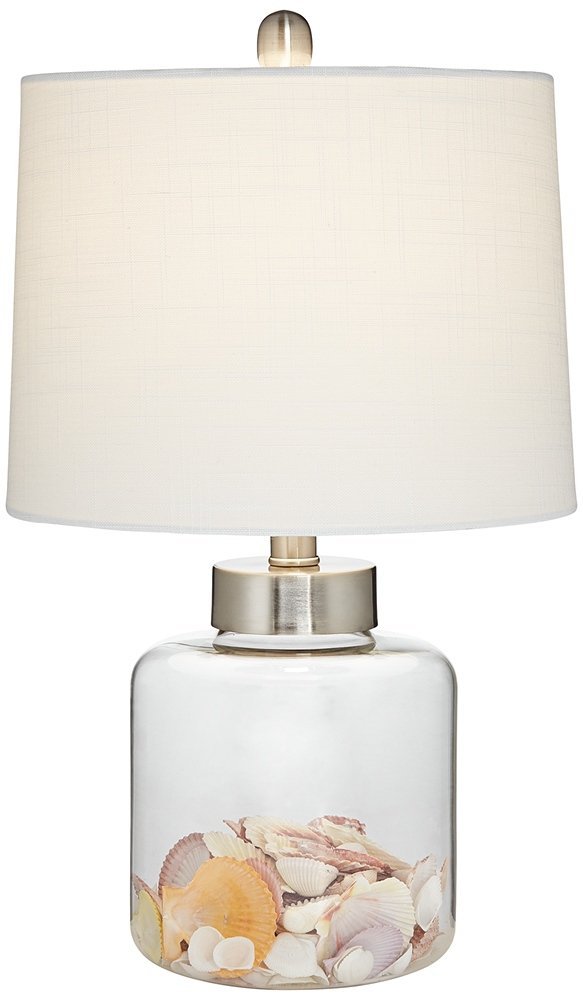 Fillable Lamp Small
1. Keep your eye out for one of those lamps that have the clear glass body or clear glass base. You might check the local thrift store and garage sales.

2. Take the lamp apart and fill the body or base with your sea glass, some shells, sand, etc, and you have a nice display for your sea glass.

3. A light source in combination with your sea glass is probably the best way to effectively bring out that special warm glow that makes beach glass so delightful.
Make more than one. It's even more effective if you can find several other lamps that can be used in this way to give a balance to the decor in your room or home.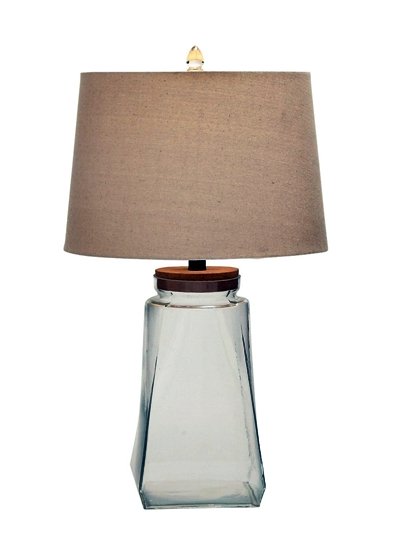 Benzara Classy and Stunning Glass Fillable Table Lamp
DIY Fillable Lamp Kit

If you want to start from scratch, you can create a custom lamp with your own lamp base or favorite bottle.
A DIY lamp kit like the one shown below makes it fairly easy.
Side hole in lamp socket means no drilling of glass bottle for lamp wire to pass through.
The kit includes all the parts that you need as well as instructions for assembly.

Included are 3 different size rubber adapters for various bottles (1/2", 3/4" and 15/16" diameter size) plus the cord set & fittings.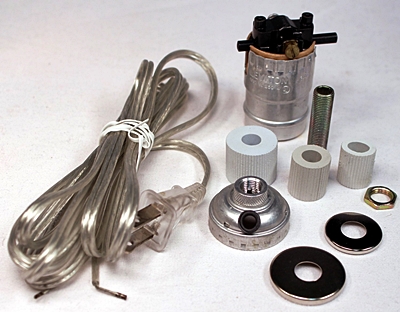 Fillable Lamp Kit DIY
To find more information on sea glass craft ideas as well as information on various aspects of sea glass collecting, see the links below.

Go from Sea Glass Table Lamp to Sea Glass Crafts for more projects using your sea glass and other beachcombing finds.

Sea Glass Crafts Ideas:
Sea glass candles, candle holders or votive holders.
Beach motif mirror or sea glass photo frame.
Colorful sea glass night lights and light switch plates.
Sea glass wind chimes, sea glass suncatchers, or sea glass mobiles.
Sea glass mosaics or a sea glass tile.
Have you tried one of these projects or another project with sea glass? Share your work with us!
Have you made one of these Sea Glass Crafts projects or one like it? We'd love for you to show off all of your hard work!

It doesn't matter if it is very basic or more complicated, we love to see them all.

Note - To upload a photo, it should be less than 1000 pixels wide.

Click here for easy instructions on resizing your photo.

There are so many different possibilities with these projects, and we'd love to see what you've come up with.

Simply use this form to share your project with us. And please...share a photo of your work!
What Projects Have Other Visitors Added?
Click below to see sea glass crafts projects from other visitors to this page...

Sea Glass Lamp Shades Japan
Please see and enjoy the gentle light of seaglass lamps. Aki from Japan.

Sea Glass Pumpkin Face
~ sea glass craft submitted by Katie Olmstead in Seabrook Beach, New Hampshire USA What to do with all those shades & hues of brown sea …
Mosaic Sea Glass Lamp Shade
~ sea glass project submitted by Ole in Seattle, Washington, USA All the sea glass used to make the lamp shades we found on the local beaches …
---
Go to Odyssea Sea Glass home page