Rye Beach, Mornington Peninsula, Victoria, Australia 24 January 2016
by Sofia and Peter
(Rye, Victoria, Australia)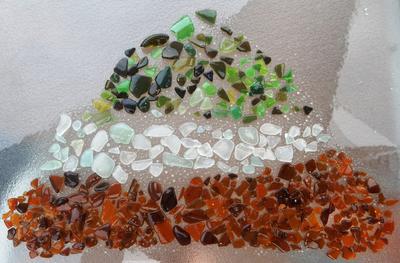 The Hierarchy
Rye Beach, Mornington Peninsula, Victoria, Australia
We collected this sea glass in 75 minutes on 24 January 2016 at Rye Beach where we are staying until April 2016.
We mainly find the hierarchy of brown, green and white. And, separately, we have found two pieces of blue sea glass.
We sprayed this "catch of the day" with water for effect.
There are so many beaches to explore on the Mornington Peninsula in Victoria.
There are beaches on the calm waters of the Port Phillip Bay side; and beaches that are on Bass Strait, facing out to Tasmania.
These are wild and rugged and are the legacy of the State of Victoria breaking away from the Island State of Tasmania - many, many years ago.
We are thinking about what to do with our collection of sea glass when we return to our home in Canberra.
We love the Odyssey website - it has so much useful information - Thank you!
Sofia and Peter

Scroll down for comments...

More Australian Sea Glass: