Keyes Beach in Hyannisport, Masachusetts
by Sharon
(Cape Cod, MA)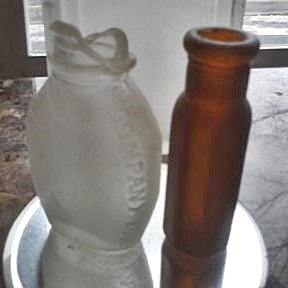 Intact bottles ~Cape Cod
~ sea glass beach report submitted by Sharon, Cape Cod, MA
Name of Beach and Location: Keyes Beach, Hyanissport, Massachusetts
I have been collecting sea glass for nearly 40 years, mostly on the Cape, sometimes in Maine.

~ sea glass beach report submitted by

Sharon

, Cape Cod, MA
How unusual to find bottles fairly intact but also frosted by tumbling on the beach waterline! I can well imagine that it would take a good number of years to collect a nice sea glass bottle ensemble such as you display here!

David (Chief Office Boy at OdysseySeaGlass)
Video on these sea glass beaches:
***z-odyssey-C2-end-of-content-ads.shtml***
***z-odyssey-C2-end-of-content.shtml***
Scroll down for comments...