Butterfly Beach-The Hammonds-Biltmore-Miramar:Santa Barbara,Ca
by Elizabeth Menzies
(Santa Barbara, Ca)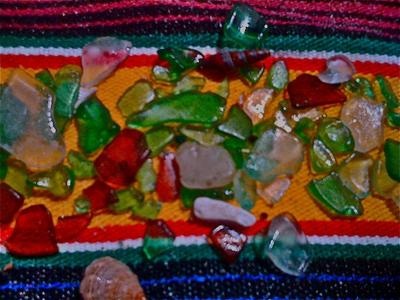 Some of what I found
~ Submitted June 3, 2013 by Elizabeth Menzies in Santa Barbara, Ca

Update: The Hammonds-Montecito, Ca (Near Santa Barbara, California)

On Friday May 31, 2013, I found 204 mixed-brown, green, turquoise, blue, clear and pottery.

Found most of it with 75 minute walk at 9'sh a.m.
We have tide pools and the sand is low right now-very rocky shoreline.
Found glass in between Miramar and The Hammonds at 9a.m. Friday May 31,2013 - grade to be determined - good day Friday - less on Saturday.

~ Submitted
May 22, 2011
by
Elizabeth Menzies
in Santa Barbara, Ca
First Red!
A medium to large square edged piece not too thick and very flat (like window glass)
Dark red.
I have been walking my usual beach..Hendreys Beach (Arroyo Burro) in Santa Barbara and finding 10-70 pieces per day.
Shards,granules,small, medium and a few large.
Recently I am rediscovering Butterfly Beach and The Hammonds and finding lots there too. 10-100 per day.
The cool thing about the Hammonds is that it pretty quiet, not a lot of traffic.
Just finished a screenplay set in this location. "The Sea Glass Hunter" Stay tuned!
by
Elizabeth Menzies aka
Lizzy

Map of Santa Barbara beach area:
View Larger Map
Here are some more interesting pages on your quest for sea glass:
Hendreys Beach and West Beach , Santa Barbara Sea Glass
by Elizabeth Menzies
(Santa Barbara, California)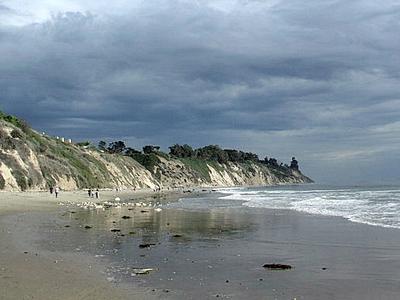 Hendrey's Beach Sea Glass (Arroyo Burro)
(see updates in comments added)

Early morning Sea Glass hunting at West Beach near the Harbor...

33+ per hour if the tide has a good swell or after a storm.

Green, Brown, Aqua, Clear and some Cobalt Blue.

Hendrey's beach early morning...15-30 pieces per hour.

East beach: None.

Butteryfly Beach: 5-10 per hour depending on the tide.

Padaro: None (see more recent report on Padaro...). Carpenteria: NA.

Summerland Beach...15-20 per hour when there is a swell.

Much of the Sea Glass is newer and has to be thrown back...but I have found well frosted and rounded Aqua blue, Olive Green, Amber and even a piece of Lavender glass with a grape pattern embossed.

Good hunting!

Lizzy Santa Barbara,California
July 2010
independent.com/weblogs/sober-spitbath
The Sober Spitbath

--------

Wow, great rundown on that string of beaches Lizzy!

David and Lin at Odyssey



Check out some more Southern California Sea Glass Reports 1: