Home

>
Featured

>
Sea Glass Pacific Nome Alaska

Sea Glass Pacific Coast - Alaska
From Featured Beaches 
April 2009
Nome Alaska Beach - USA. Rated: Good (6-15 jewelry grade pcs. found per hour) Added by: Susan Whitaker (thanks Susan!)
Nome is a city located on the southern Seward Peninsula coast on Norton Sound of the Bering Sea.
Sea Glass Pacific - Map of Alaska relative to North American Continent
In the map to the right, the Seward Peninsula reaches out toward Russia from about the middle of Alaska's Western Coast.

Nome is located a on the south side a little back from the tip.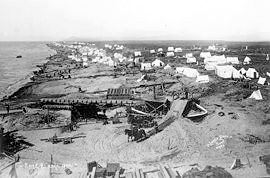 Once the largest city in Alaska, Nome has had its ups and downs. What is noticeable from these photos is the proximity of the camps to the beach.  Where do you think a lot of bottles ended up?

Yes, as sea glass on the beach, of course!
By 1907, many of the tents in Nome had been replaced by houses.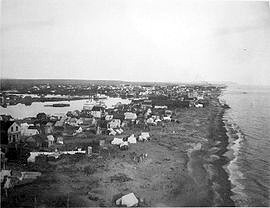 During the period from 1900 – 1909, estimates of Nome's population reached as high as 20,000. The highest recorded population of Nome, in the 1900 United States census, was 12,488. 

At this time, Nome was the largest city in the Alaska Territory. Early in this period, the U.S. Army policed the area, and expelled any inhabitant each autumn who did not have shelter (or the resources to pay for shelter) for the harsh winter.
In the winter of 1925, a diphtheria epidemic raged among Eskimos in the Nome area.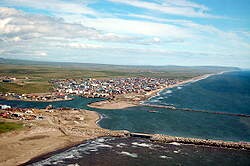 This photo shows Nome in 2006. According to 2005 Census Bureau estimates, the city population was 3,590.
Fierce statewide blizzard conditions prevented delivery of a life-saving serum by airplane from Anchorage. 

A relay of dog sled teams was organized to deliver the serum. The annual Iditarod Trail Sled Dog Race commemorates this historic event.

As you can imagine, with the history behind the city, there have been reports of good sea glass finds there...if you can handle the weather - highs don't get much above the mid 50s and that only in July!
---
More Pages to Explore: